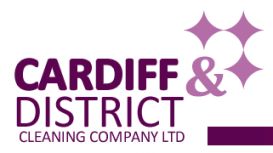 Our client's may know exactly what they want from a cleaning service, or they may not be too sure. We listen carefully in order to fully understand your needs, advising on how we can meet your specific requirements. We are always happy to hear from you and willing to talk you through any concerns in advance.
You chose a service, time and frequency that suits you and we will work with you to create a cleaning schedule to meet your specifications. Furthermore, we operate a secure key holding service, allowing you that extra piece of mind.
Each of our clients has a unique portfolio, allowing us to manage their individual needs and necessitating the smooth delivery of a hassle-free service. Customer satisfaction is paramount and acts as the bench-mark of our success. We deliver nothing short of excellence and conduct regular customer surveys to ensure a quality service.
Our rates are competitively priced and all quotes are absolutely free, with no obligation. We keep cover costs as low as possible through the use of efficient systems, meaning you pay the lowest amount possible. Additionally, all our cleaning materials are tried and tested to ensure top quality at low prices, making labour more efficient and keeping costs down.
---
Reviews and Ratings
Cardiff and District cleaning have been great, they arrived on time for our meeting prior to start and took notes of our requirements, as far as their standards are concerned it is rare if not unheard of to snag a building and find no issues what so ever so for that alone we would welcome them with open arms next year.
I confirm that we have been employing the Cardiff & District Cleaning Company for approximately one year and I have no hesitation in recommending their services. The members of the team are polite, efficient and always very keen to oblige. The cleaners never do half a job, I can always rely on them to go that extra mile and the properties are left sparkling.